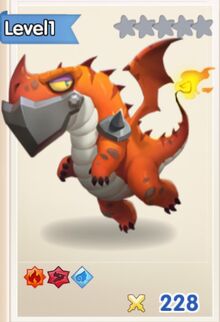 Name: Batiste
Title: Firedrake
Lore: The rise of human race threatened the ancient creatures. Being one of the few heirs, Batiste the Mighty Dragon is always willing to burn someone walking, or collect something shining.
Characteristics:
Initial stats:
HP: 447
ATK: 110
DEF: 31
SPD: 30
Mov: 4
Crit Chance: 5%
Crit DMG: 50
Skills:
Ad blocker interference detected!
Wikia is a free-to-use site that makes money from advertising. We have a modified experience for viewers using ad blockers

Wikia is not accessible if you've made further modifications. Remove the custom ad blocker rule(s) and the page will load as expected.