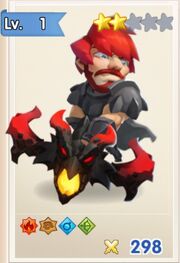 Name: 
Carlos
Title: Dragonslayer
Lore: The mountain tribe was in war against the dragons. Price Carlos was once able to kill a wounded dragon by his heavy bow and forged an armor by its scales. He was called Dragonslayer after that.
Characteristics:
Initial stats:
HP: 503
ATK: 152
DEF: 29
SPD: 35
Mov: 0
Crit Chance: 5%
Crit DMG: 50
Skills:
Ad blocker interference detected!
Wikia is a free-to-use site that makes money from advertising. We have a modified experience for viewers using ad blockers

Wikia is not accessible if you've made further modifications. Remove the custom ad blocker rule(s) and the page will load as expected.