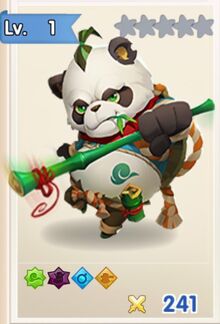 Name: Leaf
Title: Hermit
Lore: Coming from the ancient bamboo forest, Leaf lives a peaceful life with his nation. They are likely to forget misfortunes after a cup of drink. However Leaf chooses to be a fighter, always being stronger and faster than his opponents.
Characteristics:
Initial stats:
HP: 546
ATK: 85
DEF: 43
SPD: 38
Mov: 3
Crit Chance: 5%
Crit DMG: 50
Skills:
Meteor Shoot

Passive
Single target
Enhance Petal Shoot, deals multiple attacks to a single target. Causing additional DMG as much as 25% of target's max HP and Stun for 1 round.
Ad blocker interference detected!
Wikia is a free-to-use site that makes money from advertising. We have a modified experience for viewers using ad blockers

Wikia is not accessible if you've made further modifications. Remove the custom ad blocker rule(s) and the page will load as expected.