Name: Leone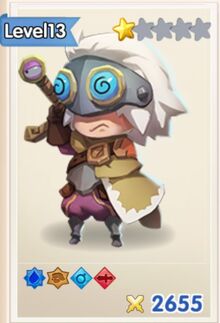 Title: Godslayer
Lore: There are more stories about his weapon Claymore than about his life. Leone doesn't talk much but he is more likely to speak his voice by the blade. Don't show your back to Leone.
Characteristics:
Initial stats:
HP: 445
ATK: 100
DEF: 39
SPD: 33
Mov: 3
Crit Chance: 5%
Crit DMG: 50

Skills:
Chop

Active
Enemy single target
Attack Range: 1
Deals 100% damage to the target

Dancing Chop
Human Valor
Dragon Slayer (2 stars)
See Through (4 stars)
Water

Passive
Single target
Water prevails over Fire, to Fire units causing additional 20% damage, damage taken by Fire attacks reduced by 20%
Ad blocker interference detected!
Wikia is a free-to-use site that makes money from advertising. We have a modified experience for viewers using ad blockers

Wikia is not accessible if you've made further modifications. Remove the custom ad blocker rule(s) and the page will load as expected.