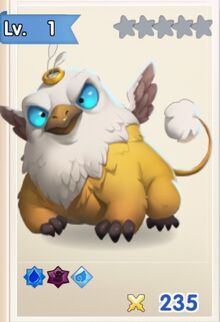 Name: Wilson
Title: Griffin
Lore: Wilson the Griffin was going to fight along with his knight friends but he failed for eating too much. By the way, he is absolutely not a fuzzy stuffed mascot.
Characteristics:
Initial stats:
HP: 481
ATK: 100
DEF: 38
SPD: 33
Mov: 4
Crit Chance: 5%
Crit DMG: 50
Skills:
Ad blocker interference detected!
Wikia is a free-to-use site that makes money from advertising. We have a modified experience for viewers using ad blockers

Wikia is not accessible if you've made further modifications. Remove the custom ad blocker rule(s) and the page will load as expected.