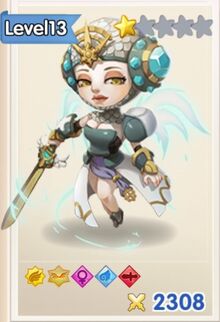 Name: Wright
Title: Disciple
Lore: Born in the chaos but she stands for the order. Travelling by teleporting skills, Wright is always the first to come and help. It is so called being blessed.
Characteristics:
Light
God
Female
Flying
S & B
Initial stats:
ATK: 100
DEF: 24
SPD: 39
Mov: 3
Crit Chance: 5%
Crit DMG: 50
Skills:
Ad blocker interference detected!
Wikia is a free-to-use site that makes money from advertising. We have a modified experience for viewers using ad blockers

Wikia is not accessible if you've made further modifications. Remove the custom ad blocker rule(s) and the page will load as expected.